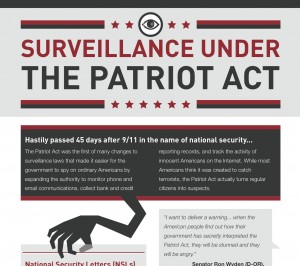 The ACLU has released a graphic concerning the USA PATRIOT Act, which greatly affected individual privacy and civil liberties. Here's more information from the ACLU:
Hastily passed 45 days after 9/11 in the name of national security, the Patriot Act was the first of many changes to surveillance laws that made it easier for the government to spy on ordinary Americans by expanding the authority to monitor phone and email communications, collect bank and credit reporting records, and track the activity of innocent Americans on the Internet. While most Americans think it was created to catch terrorists, the Patriot Act actually turns regular citizens into suspects.
Click on the image to see the full graphic.